Vincent Sports - About Us
VINCENT SPORT - CHÂTEL - About Us
Vincent Sports - Ski Hire and Snowboard Rental in Chatel, France - Chatel's premier Indepentent Ski Rental Shop
About Us
About Us
Vincent Sports ski hire shop was established in 1960 by Mr & Mrs Rubin, we will be celebrating our 50th anniversary next winter.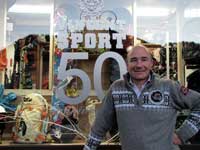 We were the second shop to open in the village, back then skiing was a very different sport. There was only a couple of drag lifts above the village and the equipment was all wood & leather, not a sniff of glass fibre, polymers or carbon fiber.
I suspect no-one was quite sure what a parabolic was back then either !
Vincent Rubin took over the responsibility of running to shop in early 90's and has worked to keep the business up to date.
The Montana Snow Cruiser Robot
In 2009 we have invested in one of the very latest automated machines which grinds, sharpens and tunes your skis in just one operation. The 6 metre long behemoth takes the skis at one end and when they exit at the other end they're ready to go.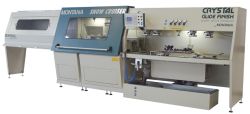 Having fun on the mountain inevitably leads to marks being left on the skis. While carving & weaving uses both edges and base, a rough glide and bad grip can spoil you're fun.
With approaching 40 years' experience, Montana have always specialised in ski and board services. Rent your skis at Vincent Sports and you'll be guaranteed perfectly tuned edges and an optimally tuned base to ensure unlimited enjoyment.

The Montana Crystal Glide Finish is a sign of outstanding quality, the Snow Cruiser robot offers the best coating structures since the invention of stone grinding, plus precision and effective edge tuning. This service quality is used for race preparation in world cups.
Advantages of the Snow Cruiser robot :
Optimal sensation for ski control
Guaranteed carving effect
Increased safety